FORD RANGER 6R80 TORQUE CONVERTER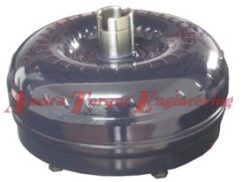 Roadblaster is proud to announce the release of their new Ford Ranger 6R80 Torque Converter. Many features have been added to this Torque Converter to make it stronger and more reliable than the OEM converter. Unfortunately the OEM Torque Converter has become a weak point in an otherwise very reliable Transmission, these Converters have very quickly become known to basically BLOW UP. The biggest weak point in these converters are the bearing fails, and the rear thrust washer that separates the Turbine from the front cover wears in, which creates excessive internal clearance in the Torque Converter, and increases the load on the bearings.
FEATURES OF THE FORD RANGER 6R80 TORQUE CONVERTER
Full Flanged Pump Drive to suit either flat or slotted gears.
Full Kiln Bronzing in Turbine and Impeller.
Larger Impeller Torrington Bearing
Full Roller Bearing replaces Thrust Washer in Base, and centralizes the Turbine assembly.
Steel Input Spline
Red Eagle Lockup Clutch with OEM Oil Grooves.
Full mounting ring on base that distributes the Torque generated evenly and prevents the Lock Up distorting under load.
The Ford Ranger 6R80 Automatic Transmission is a fully electronic Transmission, it has a total of seven solenoids that are used shift the valves and control the Lock Up Clutch in the Torque Converter. It features Torque Converter Lock up capabilities in all six gears. The 6R80 has a relatively low first gear and two overdrive gears the highest being 0.69:1, this provides good towing performance, and excellent fuel economy by offering low engine RPM while cruising.
You can purchase this Torque Converter by contacting us or you can purchase it through our EBAY SITE or fill out our spec sheet and we will advise you of the best Torque Converter for your application